D. D. Edwards              12/15/2018
"'Who do you say I am?'  This was the key question of Jesus' public ministry." [1]
It is The Question of the ages.  Who do you say Jesus is?
Who is this babe born and laid in a manger and the sinless man who died on a Roman cross?
Does it even matter?  Detractors and devotees of all stripes have butted heads against these questions throughout history.  It is critical how all of us answer these questions because the ultimate answer can be either hazardous to our eternal health or the key that unlocks the heavenly gates to eternal ecstasy.
Who is Christ?  The question has merit and must be answered.
Jesus knew that people must recognize who He was . . . He did things and spoke words intended to present His credentials as Son of Man and Son of God, the world's only Saviour.  Most people today know little or nothing about Jesus . . . even many Christians."[2]
Jesus realized the importance of "The Question" and put that very question to His disciples as well; "Who do people say that I am?" (Mk. 8:27) [3]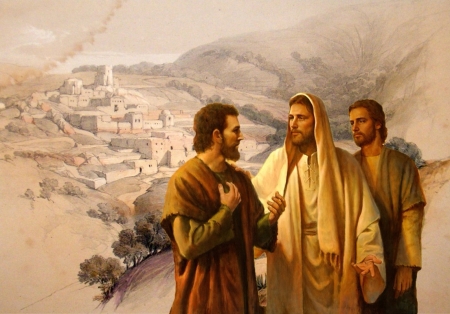 He recognized that His disciples needed to come to terms with the answer themselves.  They needed to know in their hearts and understand in their minds who Jesus was, before they could ever carry His Gospel throughout the world.
Jesus was a historical person and the biblical accounts are accurate.
Indeed the feats Jesus performed and the power He displayed during His life on earth affirm Christ's uniqueness and establishes Christianity's claim of exclusivity; indeed, if Christ is true, exclusivity is the only option.
Why Does It Matter?
Is Jesus who He said He was, the Holy Son of God?  Can He be just a great teacher, when Jesus himself claimed Godhood? (Jn. 14:9-11)  This is a pivotal question.  Charles Ryrie says this:
Many in our day deny the deity of Christ, knowing that in doing so they are undermining the central aspect of Christianity because they have removed from it the divine Saviour. . . . Those who deny His full deity either regard Him as a . . . great man . . . a good man . . . or a man more advanced.  Along with such views of Christ goes the denial . . . of His miraculous birth, death, and resurrection.[4]
Are these naysayers correct in their assumptions?  Usually their assertions that are merely strawman fallacies that put forward a version of Christianity suitable for a small child and makes that the object of its attack.
Historical, biblical, extra-biblical, and forensic evidence support the fact that Christianity is not merely a rotting carcass, but rather stands on a concrete spiritual essence? Of course many close their minds all of this.
It must be noted that Jesus did not just walk around merely claiming to be God as many other pretenders did.
Jesus backed-up His claims, as noted by the following scholars.  Former atheist journalist and Christian critic Lee Strobel writes:
. . . Jesus didn't just claim to be God—he backed it up with amazing feats of healing, with astounding demonstrations of power over nature, with transcendent and unprecedented teaching, with  divine insights into people, and ultimately his own resurrection from the dead, which absolutely nobody else has been able to duplicate. . . . When Jesus claimed to be God, it wasn't crazy.  It was the truth.[5]
In his inimitable style, C.S. Lewis verbally flogs the proposition Jesus was just a teacher:
A man who is merely a man and said the sort of things Jesus said would not be a great moral teacher. He would either be a lunatic—on the level of the man who says he is a poached egg—or else he would be the Devil of Hell.  You must make your choice.[6]
Therefore, the questions set forth, "who is Christ" and "does it really matter" are critical to both the nonbeliever and believer in Christ.  A.W. Tozer eloquently explains,
The history of mankind will probably show that no people has ever risen above its religion, and man's spiritual history will positively demonstrate that no religion has ever been greater than its idea of God.  Worship is pure or base as the worshiper entertains high or low thoughts of God.[7]
Alister McGrath tells affirms ". . . [The] Christian existence is possible only on the basis of the life, death and resurrection of Jesus Christ; and the nature and shape of that existence itself embodied in his own life, and inspired and informed by it."[viii]
This is the very thing the Apostle Paul taught,
. . . if Christ has not been raised, your faith is worthless; you are still in your sins.  Then those also who have fallen asleep in Christ have perished.  If we have hoped in Christ in this life only, we are of all men most to be pitied" (1Cor. 15:13-19).
Christ In Covenant And Prophecy
Jesus Christ's uniqueness is most intensely illuminated in His mission as the Son of Man.  Nevertheless, for the complete picture it is important to look at what the Old Testament prophecies says about the Messiah.
Indeed our salvation is possible only through the finished work of the babe in the manger.  This is embedded in the Old Testament–though not always evident.
It begins with the very first prediction about Jesus (Gen. 3:15) and ends with the final prophecy (Mal. 4:3, 5).  It is clear there is one and only one way man can be restored to a relationship with his Creator.    That is through the death and resurrection of Jesus Christ.
Merrill F. Unger reinforces this assertion:
The whole of the Old Testament is to be looked upon as bearing prophetic character.  The idea underlying the whole development of these Scriptures and the life dealt with therein is that of God's gracious manifestation of himself to men, and the establishment of His kingdom on earth.[ix]
In addition, Irving Jensen posits,
Divine design in the ancestral line . . . is supremely manifested in the ancestry of Jesus.  Every prophetic word concerning Him which was uttered in the centuries before He was born was spoken according to a perfect divine plan, and fulfilled with the same accuracy.[x]
The entire Bible, front to back, is about the Christ.  He is the Scarlet Thread of Redemption[xi] prophesied in the Old Testament; realized in the New Testament.  It is the case that "fulfilled prophecy does not prove the existence of God, but it does show that unusual events predicted in his Name . . . are evidence of His special activity."[xii]
God Prophesies
God Himself gave the first Messianic prophecy, the protoevangelium, in The Garden at the inception of sin and the fall of man in Genesis 3.  Nevertheless many more prophecies are to follow, in fact, there are 190[xiii] prophecies concerning just the advent of the Messiah.
Interestingly enough, "the number of passages in the Old Testament regarded by the Jews . . . as prophetic is much larger than that of the special predictions to which Christians have commonly appealed. . . . upward of 456".[xiv]
It is amazing to think the Jews missed Jesus as Messiah after 456 signs pointing to Him.
---
[1]  Irving L. Jensen, Chicago: Studies in the Life of Christ (Moody Press, Chicago, 1969), 1.
[2]  Ibid.
[3] All Scripture, unless specifically noted is taken from the New American Standard version of the Bible.
[4]  Charles C. Ryrie, A Survey of Bible Doctrine (Chicago: Moody Press, 1972), 52.
[5] Lee Strobel, The Case for Christ, (Grand Rapids: Zondervan Publishing House), 198.
[6] Lewis, 55, 56.
[7] Aiden Wilson Tozer, The Knowledge of the Holy (San Francisco: Harper San Francisco, 1992), 1.
[viii] Alister McGrath, A Passion for Truth (Downer Grove: Intervarsity Press, 1996), 36.
[ix]  Merrill F. Unger, Unger's Bible Dictionary, (Chicago: Moody Press, 1977), 718.
[x] Jensen, 7.
[xi] W.A. Criswell, "The Scarlet Thread of Redemption," New American Standard Bible, The New Open Bible Study Edition (Thomas Nelson Publishers, Nashville), 1527.
[xii] Norman L. Geisler, Grand Rapids: Baker Encyclopedia of Christian Apologetics (Grand Rapids: Baker Books a division of Baker Book House Company, 1999), 609.
[xiii] Barton Payne, " Encyclopedia of Biblical Prophecy," in Ibid., 610.
[xiv] Merrill F. Unger, Unger's Bible Dictionary, (Chicago: Moody Press, 1977), 718.